digital in store
The M-POS solutions provided by Solusquare Commerce Cloud optimise customer loyalty by offering a new customer shopping experience. A tablet, electronic payment terminal, ticket printer and the business give their salesperson their role back: Advise to sell.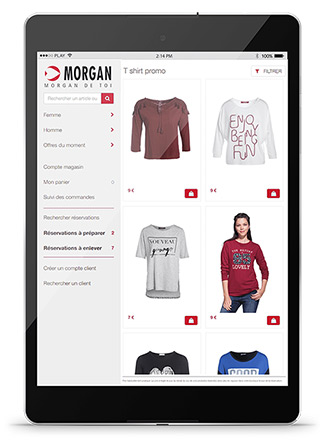 Unclog checkouts:
the application acts
as the checkout
Bankcard readers
connected by
Bluetooth
Electronic payment
terminals with
mobile payment

Access to
transaction records:
online/offline/print-outs

Customers receive
their credit card receipt
via SMS or e-mail

Product line expansion: share a comprehensive catalogue

In-Store Sale Order:
delivery to stores
or home addresses

Management
and preview of stocks
with the customer
to respond to offline issues,
Solusquare proposes to introduce the power of Web
in store with its "Digital In-store" application


RESTOCKING A PRODUCT IN STORE
stockout, lack of shelf-filling

LOCATION OF POINTS OF SALE
and nearby products


ORDERS DELIVERED
to customer home addresses

PRODUCT E-BOOKINGS
to be tried in store


MOBILE POINT OF SALE
incorporating payment on tablets
and/or electronic payment terminals

CLICK & COLLECT

highlight your points
of sale

VIEW AND MANAGE
CUSTOMER ACCOUNTS
and loyalty programmes

EXCHANGES, RETURNS
AND REFUNDS
in store

increase
in-store traffic

SHOP DASHBOARD
for the seller's account

PROACTIVE CUSTOMER SERVICE
to help customers
with their purchases
unify the real and the virtual
with E-Booking, In-Store Sale Order
and the in-store application
a question?
A consultant is available to answer all your questions